A new restaurant is coming to Boardman. Raising Cane's Chicken Fingers, based out of Baton Rouge, Lousiana is opening its restaurant in Boardman on May 15. Ground broke on the new restaurant in late December after it was acquired by Raising Cane's Ohio, LTD, the company's franchise partner for Ohio and Northern Kentucky in mid-September. This location is the first in the Youngstown-Warren area and the fourth in Northeast Ohio. It will be the 31st location in Ohio and the 438th location overall.
Raising Cane's was founded by Todd Graves and Craig Silvey on the Louisiana State University campus in Baton Rouge. The restaurant was initially going to be called 'Sockeye's Chicken Fingers', named after the sockeye salmon Graves fished while trying to raise money for the restaurant. A family friend convinced Graves to name the restaurant after his dog, Raising Cane, while also being a pun on the term 'raising Cain', a biblical reference to Cain and Abel in the Book of Genesis in the Bible, meaning to wreak havoc. The company has a strong focus on fundraising for schools, pet welfare organizations, healthy lifestyles, and business development, and has participated in Lemonade Day, a non-profit organization teaching children how to run and operate their own business.
According to the Youngstown Business Journal, the Boardman restaurant consists of a new prototype design, featuring outdoor seating and a double drive-thru to support the large influx of people expected to eat at the restaurant. The interior of the restaurant will feature a disco ball, a picture of Elvis Presley, photos of each of Grave's dogs, and many local artifacts, such as sports jerseys.
Raising Cane's menu is very short, consisting of five combos called 'The Box Combo", "The 3 Finger Combo", "The Caniac Combo", "The Sandwich Combo", and a kid's combo. There are also combos called 'tailgates', which consist of bulk amounts of chicken fingers, and their specialty Cane's Sauce. Their combos consist of chicken fingers, crinkle-cut fries, Texas toast, and their signature Cane's Sauce. Patrons can also substitute the sauce for either honey mustard sauce or Lousiana Hot sauce. Also on their menu is freshly squeezed lemonade and iced tea.
Each of their sauces is made fresh daily by the store manager, who is held to a confidentiality agreement on the recipe. Their chicken is fresh, never frozen, and marinated using a secret recipe and fried in canola oil. Their Texas Toast is made from pull-apart bread, rather than sliced bread from other similar-style restaurants. Their restaurants don't even use heat lamps, or own them, as all of their food is made to order. Customers can replace any item in a combo for any other item, and most people replace the coleslaw with either another sauce or Texas toast.
Opening day celebrations include musical performances and appearances from Youngstown State University's mascot, Pete the Penguin. In addition, the first 100 customers will get a coupon for a free Box Combo, as well as a 'Lucky 20' drawing, in which 20 paying customers ages 13 and older will have a chance to win free Cane's for a year. More information about opening day celebrations can be found by clicking here.
Many people from New Castle have had Raising Cane's on trips throughout Ohio, with numerous locations in Columbus, Cincinnati, and one each in Kent, Strongsville, and North Canton. Many 'Caniacs' throughout the region will finally have a restaurant to call their own. Hopefully, soon they will expand into Pittsburgh…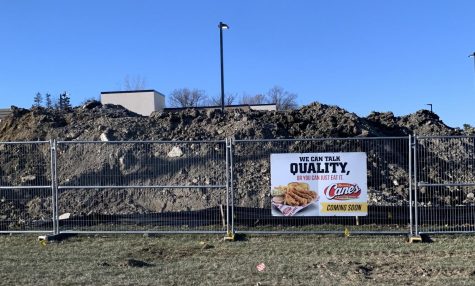 The fast-casual restaurant is going to open on May 15th and is located at 450 Boardman-Poland Road in Boardman, across the street from Wendy's and Quaker Steak & Lube. It's located adjacent to the plaza with Dick's Sporting Goods and Bed Bath & Beyond.
(Above picture taken March 23, 2019)