LAST UPDATED ON 4/29/2020
Pennsylvania Governor Tom Wolf has announced that all schools in the Commonwealth of Pennsylvania will be closed for the remainder of the school year. Previously, the governor said that no schools will be penalized if they fail to meet the 180 day or school hours requirements, meaning students do not need to make up these days. Schools across the state are encouraged to use online learning for the remainder of the academic year.
The entire state of Pennsylvania has been issued stay-at-home orders, meaning that residents are only allowed to leave their house in emergencies, to get supplies, or take care of loved ones. The entire states of Ohio and West Virginia, as well as dozens of others, are also under stay-at-home orders.
This article will be continually updated as more news revolving the COVID-19 virus in New Castle happens. Updates will also be posted on the school's website, ncasd.com, the city's website, and the Senior High School Twitter page.
Also, students: please check your Google Classroom accounts. Most teachers have sent invites to all of their students to join a classroom, and this is how you will receive all work from here on out.
UPDATE 3/25/2020 4:15 PM: Lawrence County now has its first confirmed case of COVID-19. According to the New Castle News, the person is an employee at Nalco Water's Ellwood City water treatment plant. Other employees at the plant have been told to self-quarantine for at least fourteen days.
UPDATE 3/26/2020 6:15 PM: Last night, the U.S. Senate approved a $2 trillion stimulus plan, which includes checks to be sent to Americans. All U.S. residents with a gross income up to $75,000 (couples up to $150,000) would get a $1,200 check from the government ($2,400 for couples). Additionally, for every child in an eligible family, they will receive $500. The stimulus package also includes $500 billion in loans to struggling industries such as airlines, $100 billion to hospitals, $150 billion to governments, and much, much more. A similar package (for around $1 trillion) was also approved in 2009 after the Great Recession.
UPDATE 3/27/2020 5:30 PM: Lawrence County now has four confirmed cases of COVID-19, and U.S. Representative Mike Kelly, representing all of Lawrence County, has tested positive for the coronavirus. In a press release on kelly.house.gov, he stated that he was experiencing mild flu-like symptoms earlier this week and was tested at Butler Memorial Hospital. Additionally, Butler and Westmoreland County are now under a stay-at-home order.
UPDATE 3/28/2020 3:00 PM: Lawrence County now has its first death from the coronavirus, according to the New Castle News. The 88-year-old man reportedly died Friday night at UPMC Jameson Hospital. No further information is available. In other news, Lawrence County's confirmed COVID-19 cases have doubled since Friday, now at 8.
UPDATE 3/30/2020 3:00 PM: The number of COVID-19 cases in Lawrence County is now at 10. The New Castle News reports that two New Castle firemen and two Noga Ambulance employees are quarantined after being exposed to COVID-19 on a call in Mahoningtown. The patient reportedly had no symptoms of the virus but was discovered to be infected with the coronavirus at UPMC Jameson Hospital, where he later died. This is the only death related to COVID-19 in the county thus far. In other news, Governor Wolf has extended the stay-at-home order for 26 counties until April 30 and announced that schools will be closed indefinitely.
UPDATE 3/31/2020 2:30 PM: Starting at 8:00 PM tonight, Lawrence County will be under a mandatory stay-at-home order until at least April 30. Individuals may only travel to maintain health and safety, obtain supplies, engage in outdoor exercise, perform work at an essential business, care for a family member or other vulnerable person, travel to educational institutions, travel required by court or law enforcement order. Additionally, the New Castle News reports that a second person has died from COVID-19 in Lawrence County and there are now 13 cases in the county.
UPDATE 4/1/2020 8:30 PM: The entire state of Pennsylvania is now under a mandatory stay-at-home order. Lawrence County has not reported any new COVID-19 cases since yesterday. However, the New Castle News reported that the county's second death was a 68-year old man who worked at Blair Strip Steel.
UPDATE 4/3/2020 4:00 PM: As cases continue to rise in Lawrence County (now we are at 19), I urge you to please stay at home. It is quite evident, simply by looking out of the window of my room towards Highland Avenue just a few hundred feet away, that hundreds of people are not following the government's stay-at-home order. Please only leave the house if you are an essential worker, picking up supplies, or caring for those who can not take care of themselves. Had Pennsylvania issued a stay-at-home order weeks earlier like Ohio did, which is a state with a similar population to Pennsylvania, we would probably have less than 4,000 cases right now. Governor Wolf is also asking any Pennsylvanian that must leave their home to please wear a cloth facemask. In sad news, one of Beaver County's largest nursing homes, Brighton Rehabilitation and Wellness Center, has been hit hard by the virus, with 38 confirmed cases so far.
UPDATE 4/5/2020 4:00 PM: I urge everyone to read this article from the New Castle News about a physician's assistant from Lawrence County working on the front lines of the virus in New York City. As of today, only two counties in the entire state of Pennsylvania have no confirmed cases of the coronavirus – Elk and Jefferson. Currently, the worst county by the percentage of infection is Blaine County, Idaho, with 1:55 persons infected in the county of 22,601. Following that are Rockland County, NY (1:61), Westchester County, NY (1:71), Nassau County, NY (1:94), and Orleans Parish, LA (1:96). Those counties are the only counties as of today in the entire country with an infected percentage higher than 1%. All this news follows the U.S. Surgeon General's warning that this week will be "our Pearl Harbor moment".
UPDATE 4/8/2020 4:45 PM: Lawrence County now has 32 confirmed cases and 2 deaths. Current projections are expecting the disease to peak on April 15 in Pennsylvania and completely flatten out by mid-May. The nursing home in Beaver County is now presuming that all 450 residents and 300 staff members may be positive for the disease, according to the Post-Gazette. Two more nursing homes in the Pittsburgh area have confirmed cases, including the Kane Community Living Center in Glen Hazel, with 31 confirmed cases, and St. Barnabas in Richland with 18 confirmed cases and two deaths.
UPDATE 4/9/2020 11:30 PM: Pennsylvania schools are officially closed for the remainder of the school year, and Lawrence County has gained 5 new confirmed cases since yesterday, now at 37. Current projections from healthdata.org now say that Pennsylvania will be at its peak on April 13, and Ohio and New York had its peak on April 8. The United States as a whole is expected to reach peak resource use on April 11.
UPDATE 4/10/2020 4:30 PM: Since the last update, Lawrence County now has 45 confirmed cases of COVID-19 and 3 deaths. The global death toll has amassed 100,000 COVID-19 related deaths. In other news, the City of New Castle has extended its state-of-emergency through the end of May. It is very evident that many people are not following the state's stay-at-home order. A few days ago when it was warm outside there were numerous groups of kids and teens walking close-together around the North Hill, and I'm sure this is the case for other sides of town as well. This is why cases are rising every day in Lawrence County. If you are a parent and your son or daughter wants to go out and do something with their friends tell them NO. We can not stop this disease from spreading if people are acting like nothing is abnormal. From someone whose parents are both in healthcare fields, we ask that you please stay at home because evidently people are not caring enough. As far as we know, no one is immune.
UPDATE 4/15/2020 3:30 PM: Lawrence County now has 55 confirmed cases of COVID-19 and 5 deaths. Pennsylvanian legislators are feuding over the passage of Senate Bill 613, which was just passed under the Pennsylvania House of Representatives. This bill includes non-essential businesses being eligible to reopen if they follow federal guidelines from the CDC. The House also passed Senate Bill 841, which would allow local governments to provide greater flexibility on property tax deadlines, remote meetings, and giving notaries authorization to remotely notarize documents.
UPDATE 4/20/2020 11:45 PM: Governor Wolf has announced that some areas could be reopening as early as May 8. This also comes as the governor announced that auto dealerships will be allowed to sell cars online, but not in-person. Private and nonprivate construction will also continue starting on May 8. Lawrence County now has 59 cases and 5 deaths with one apparent recovery.
UPDATE 4/22/2020 7:00 PM: The Pennsylvania Department of Health has begun releasing data on a zip-code basis. You can see this by clicking here and clicking on 'zip code data' at the bottom. For your reference, here are the municipalities located in different zip codes throughout the county.
16037: Parts of Perry Township, parts of Slippery Rock Township. (mostly in Butler Co.)
16051: Parts of Slippery Rock Township, parts of Scott Township, and parts of Perry Township (mostly in Butler Co.).
16057: Parts of Scott Township, parts of Plain Grove township (mostly in Butler Co.).
16101: The City of New Castle (except North Hill north of Winter Ave., Mahoningtown, and South New Castle Borough), Union Township, parts of Shenango Township, parts of Taylor Township (excluding West Pittsburg), parts of Hickory Township, Scott Township, Slippery Rock Township, and Wayne Township.
16102: Parts of Taylor Township, Mahoningtown, South New Castle Borough, and parts of North Beaver Township.
16105: North Hill north of Winter Ave, Neshannock Township, parts of Pulaski Township, parts of Wilmington Township, and parts of Hickory Township.
16112: Parts of North Beaver Township including Bessemer.
16116: Parts of Pulaski, Mahoning, and North Beaver townships.
16117: Parts of Slippery Rock Township, parts of Shenango Township, parts of Wayne Township, Ellwood City borough (part. in Beaver Co.)
16120: Much of North Beaver Township and parts of Little Beaver Township (part. in Beaver Co.).
16132: Parts of Mahoning Township including Hillsville.
16140: New Bedford CDP
16141: Parts of North Beaver Township, parts of Little Beaver Township, and parts of New Beaver Township (part in Beaver Co.).
16142: Parts of Wilmington and Pulaski townships; New Wilmington Borough (part in Mercer Co.)
16143: Parts of Pulaski and Mahoning townships (part. in Mercer Co).
16155: Villa Maria CDP
16156: Parts of Hickory Township, parts of Wilmington Township, parts of Washington Township, parts of Plain Grove Township. (part. in Mercer Co.).
16157: Parts of Taylor Township, Wampum Borough, parts of New Beaver Township, and parts of Shenango Township (part in Beaver Co.).
16159: Parts of Pulaski Township (mostly in Mercer Co.)
16160: West Pittsburg
UPDATE 4/29/2020 6:00 PM: As some recreational areas open this Friday in Pennsylvania, other states are planning on reopening as soon as two weeks from now. As fewer cases are being reported in Lawrence County, having numerous days without new cases in the past week, we now sit at 64 cases and 6 deaths. In other news, the first experimental drug against SARS-CoV-2, known as Remdesivir has passed its first series of tests proving its effectiveness against the virus. Dr. Antony Fauci of the National Institute of Health said that the drug reduced the time it takes for recovery by 4 days on average. He also said that there was a trend toward fewer deaths among those taking Remdesivir and that full results will be published in a medical journal soon.
COVID-19 Cases By County & Projections
Since I cannot keep up with new cases as it rises almost every minute, here are some sites you can go to to see the most current information available. Infection2020.com has the most accurate information from across the country on a county-by-county basis from my findings, updating hundreds of times every day. Some other websites run by state governments, including this one at health.pa.gov and this one at coronavirus.ohio.gov, may sometimes be more up-to-date than the aforementioned site.
For projections, the most widely accepted site is covid19.healthdata.org. They have projections for most European and North American countries, as well as a state-by-state breakdown of when resources will be at its peak use. However, these are just projections based on current statistics and do not represent what could actually happen.
Stay At Home!
Please stay at home unless it is an emergency! The arrogance and ignorance of the American people have caused this virus to spread to a point where it is out of control. Please, do not be selfish during this pandemic. While you might feel healthy, you may still have the virus – symptoms vary from person to person. Please only leave the house if you are doing tasks essential to health and safety, picking up supplies, or if you work at a life-sustaining business. Please take the virus seriously!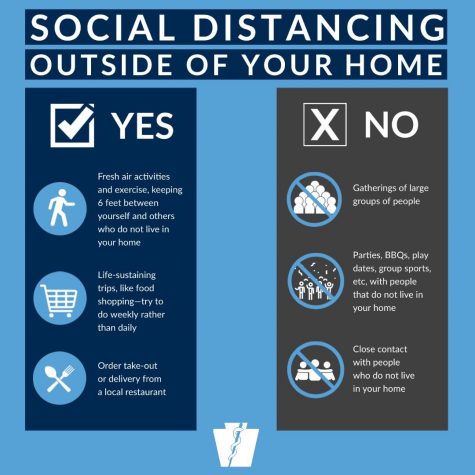 Think about your loved ones. By going out of your way to hang out with your friends you are putting your family and friends at risk to contract the coronavirus. Not only is your family at risk, but what if a family member or friend has to go out to the store, care for their elders, or end up admitted to the hospital? Thousands of others are put at risk of contracting the coronavirus including hospital staff, pharmacists, grocers, and just regular citizens, to name just a few.
PLEASE take the coronavirus pandemic seriously. It could cost your family members, friends, and millions of other people their jobs, livelihoods as we know it, and even their lives. Take a look at this chart made by a website from New Zealand by clicking here. It really helps to put the virus into perspective. Consider alternative methods of communication with friends such as FaceTime, Discord, Skype, and plenty of other options. Please, stay at home!
Making a Cloth Face Covering at Home
On Saturday, April 4, the United States' Surgeon General Jerome Adams put out a video showing how Americans can make their own face-covering using typical household items. You can watch that video by clicking here.
Fake Text Message Alerts
If you have received a text message claiming that the National Guard will close all businesses and impose curfews is fake. While the National Guard has a local presence, they are not allowed to shut down businesses and impose curfews. The text also mentions that President Trump will invoke the Stafford Act, ordering a two-week mandatory quarantine for the entire nation. Please note that these text messages are fake and if a real curfew and/or stay-at-home order was imposed, it would likely be sent via the Digital Presidential Alert system, which is similar to the Amber Alert and Emergency Alert systems.
Free & Reduced Breakfasts & Lunches for Students
The following New Castle restaurants are welcoming students with valid ID to a free meal
Ali's Upper Crust (1700 Highland Avenue) – free 7″ cheese pizza
Los Amigos (2017 W. State Street) – free two tacos (hard or soft, chicken or beef) and a side of rice ($5 nacho and $1 taco deals also)
El-Canelo (all locations) – free two tacos (chicken or beef) and a side of rice (30% off all to-go orders also)
The New Castle Area School District will be passing out breakfast and lunches at the following locations and times via a food truck and a van.
10:00-10:20 – Van Oak Leaf Gardens Apartments; Food Truck Harry W Lockley Early Learning Center
10:30-10:50 – Van McGrath Apartments; Food Truck Courthouse next to Albert Gettings Annex
11:00-11:20 – Van Westview Apartments; Food Truck Brinton Hill Apartments
11:30-11:50 – Van Grant Street Homes; Food Truck Big Run Apartments
12:00-12:20 – Van Lincoln Terrace Apartments; Food Truck Panella Bros.
12:30-12:50 – Van Harbor Heights Apartments; Food Truck Hito's Restaurant
1:00-1:20 – George Washington Intermediate
Meals are served Monday-Friday and students will receive breakfast and lunch. Students do not need to be present to receive a meal; a parent or guardian can pick up a meal for every child in their household.