On December 9th, UPMC officials said that they have no concerns about their hospitals running out of bed for COVID patients or other patients, even saying that they plan on continuing their schedule of elective surgeries. This statement comes as COVID infection rates exponentially surge throughout the region, state, and country, forcing many hospitals to cancel elective surgeries. The current rise in cases could lead to an unprecedented amount of non-COVID infected individuals who unexpectedly die due to the inability to receive the treatment they may need.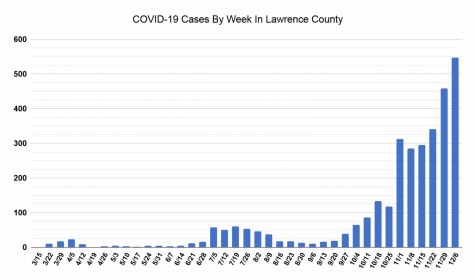 This graph represents COVID-19 cases per week in Lawrence County alone, as of the writing of this article. As you can see, the current uptick in cases began in late September, a few weeks after schools started. Throughout most of November, COVID case counts stayed at a relatively consistent rate, getting around 300 cases per week. Around Thanksgiving, these cases surged. That leads us to today: within the week of December 6th, there were nearly 550 cases county-wide.
A day after Pennsylvania Governor Tom Wolf tested positive for COVID-19, he and Secretary of Health Dr. Rachel Levine ordered a 3-week business shutdown for indoor dining, bars, theaters, casinos, and gyms. The shutdown started Saturday at 12:01 AM, moreover prohibiting indoor gatherings of more than ten people with places of worship exempted.
"The situation we're in is dire," said Governor Wolf. "It's not the government putting businesses at risk, it's the virus. We're not targeting anybody, the virus is."
The order, unfortunately, may cause some businesses to shut down permanently, which is why many are arguing for Congress to pass a second stimulus bill as soon as possible. Unfortunately, the proposed packages by both the republicans and the democrats most likely won't make up for the extraordinary costs associated with running a small business. Other countries, such as Japan, Norway, Germany, France, the UK, and Italy, have subsidized over 80% of wages lost because of the pandemic, including much of the costs associated with running a small business. America, on the other hand, has only supplied one $1,200 stimulus check and unemployment benefits that, to some recipients, is entirely too much, which inversely is not enough for some who live in large cities such as San Francisco.
"I can only speak for UPMC," said Leslie Davis, UPMC's chief operating officer for health services, during a press conference. "We're busy, but we're not overwhelmed in any way. There's really a calm feeling among our hospitals."
Staff members at hospitals have a contradicting story to tell.
"It's scary," said Paula Stellabotte, an ICU nurse at UPMC Altoona, in a letter sent to the Associated Press. "We don't have enough (staff) in the whole building. We did get some travel nurses brought in, which will hopefully help. We have some people who have left because they don't want to keep doing this kind of work. As soon as one bed's empty, there's like two or three patients ready to come in. It's nonstop."
It's obvious, though, that this shortage of beds and staffing is not just prevalent at UPMC Altoona, but rather most hospitals in America, with Jameson included. I have heard people describe Jameson's current conditions as "a warzone," with people quitting their jobs because the situation is – simply put – depressing.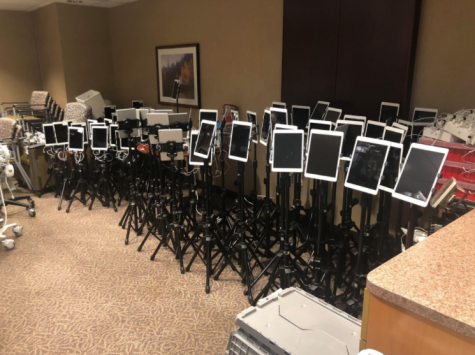 This photo is at an unknown hospital in the world, posted by Reddit user shaka_sulu. Those are iPads, being prepared for virtual end-of-life visits. That is just one example of the depressing reality of the virus in hospitals across the world, which is one of the reasons people are comparing hospitals to warzones.
According to multiple sources, including NPR's interactive hospitals map and the New Castle News, UPMC Jameson is close to maximum capacity. Currently, according to NPR, 99% of adult inpatient beds are occupied, with 28% of those used by COVID patients.
After analyzing the data in other UPMC Hospitals, it is clear that the majority of their hospitals in highly populated areas are overwhelmed. UPMC Altoona is at 94% capacity, while many UPMC hospitals in Allegheny County are above 80% capacity, except for Magee Women's Hospital. There is no information for UPMC Children's Hospital, as only adult inpatient beds are counted. The most cases of the virus at any hospital in Allegheny County is UPMC Presbyterian in Shadyside, with 128 patients, which is at 86% of its capacity. UPMC East, in Monroeville, is at 100% capacity. Other hospitals in Allegheny County that are likely overwhelmed include Allegheny General Hospital, Allegheny Valley Hospital, Forbes Hospital, Jefferson Hospital, St. Clair Hospital, and West Penn Hospital. There is no information for either of the VA Hospitals and a few other smaller hospitals.
To see this data live, in real-time, click the link here.
The CDC just recently announced that the Pfizer/BioNTech COVID-19 vaccine can now be administered to those 16 years old and older. The vaccine began it's shipment on Sunday morning, with the first doses of shots expected on Monday morning. In Pennsylvania, this vaccine will first be given to healthcare workers, followed by those who are at the highest risk. Much of Pennsylvania's population won't receive the vaccine until at least "the second quarter of 2021", according to Secretary of Health and Human Services Alex Azar.
I strongly advise everyone to stay at home if possible to avoid the spread of the virus. Support local small businesses who may be hurting from the shutdown of dine-in eating by ordering for pick-up and leaving a tip. There is no evidence that the virus which causes COVID-19 spreads by food, so nonetheless, it should be safe. Call your loved ones via FaceTime or Zoom or whatever suits you best. Most importantly, when going out of your house, wear a mask when around others and have one handy if no one else is around. This virus has devastated the world over the past year, and in the current state we are in, it is not getting any better. The fall resurgence they told us about is here and much worse than anticipated.
Stay safe, mask up, and support everyone, and we'll all be able to have the second half of 2021 seem normal, hopefully.