This is an article I was hoping I didn't have to write.
It's been over a year at this point since my last article was published so I'll catch you up to speed. My name is Brett. I'm a 2021 New Castle graduate and sophomore at Youngstown State University. I'm coming back after a year frustrated and utterly disappointed with the high school's current situation. I have a ton of points I want to touch up on over the coming months but today's most correlates to what I'm studying in school – traffic engineering.
Have you ever heard of the phrase "if it ain't broken don't fix it"? Well, New Castle High School's traffic situation was broken and what they did this school year was break it more.
From what I've heard, the school decided to have walkers (which, mind you is literally all of the North Hill's population) only be allowed to go into the front entrance of the school. One single entrance for probably a few hundred students within a short window of like 20 minutes. Bus students are bused in to the rear entrance of the school.
But my question is why bottleneck from five entrances before (including the 6th grade entrance) to now having just two? I understand there's sort of a school security premise behind it, but wouldn't it be safer to have younger kids go through a different entrance? Now you're creating more traffic at one point, which makes an even heavier bottleneck than there was before.
But this bottleneck isn't why I'm writing this article.
What angers me the most about this situation is that a young girl was hit by a car today on the street, apparently on East Street near Hurricane Drive. I can't say whether the driver or the girl were responsible for causing the accident, but I can say one thing. From an engineering student's perspective, this intersection is AWFUL.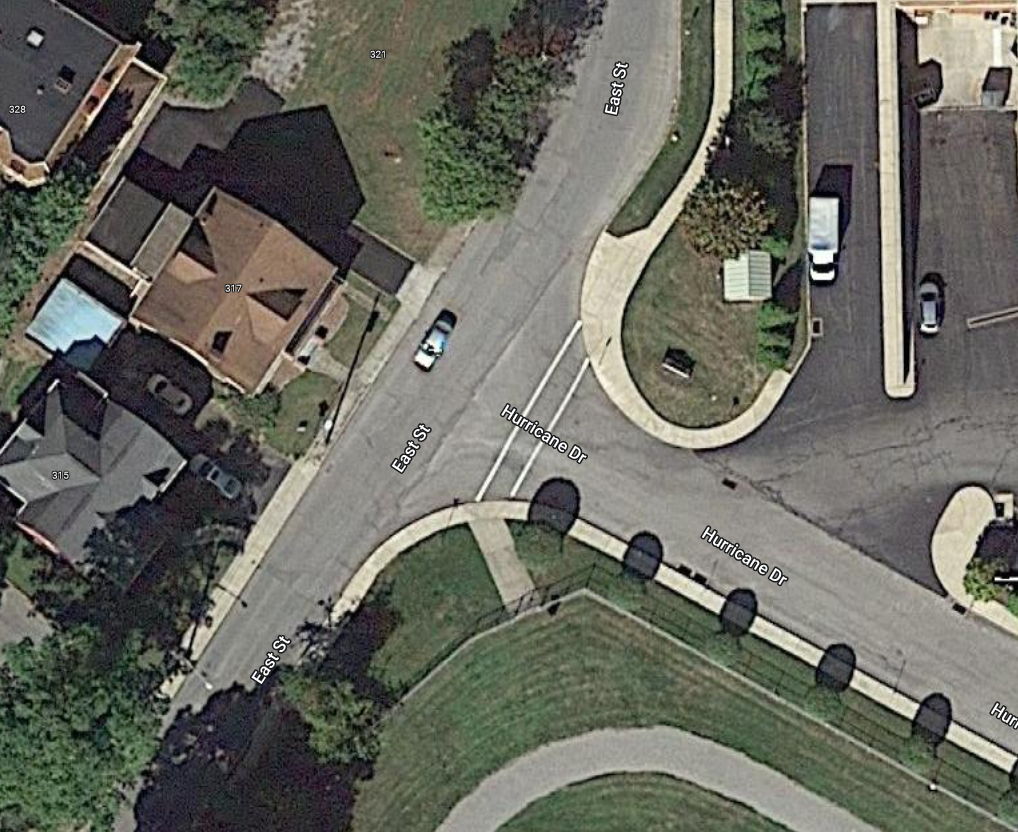 Above is a screenshot of the intersection. First thing anyone will notice is that there is no marked crosswalk crossing East Street, only Hurricane Drive. Next thing that an engineer will notice is that the radius of the intersection is extraordinarily wide. This means cars can go faster while turning around the corner. This is a textbook example of car centric planning in an area where cars and pedestrians must intertwine.
Going down on street view is even worse, though. As of 2019, there isn't even a wheelchair-accessible ramp to make it easy to cross East Street. Here's an interesting fact: according to the Americans with Disabilities Act, Section 28 CFR 35.151(i), "If the resurfacing [of a road] affects the crosswalk, even if it is not the full roadway width, then curb ramps must be provided at both ends of the crosswalk." If I recall correct, East Street was just very recently repaved and I don't believe such crosswalks were installed.
When this school was built nearly 20 years ago, who could have ever thought this was a good idea? Or, more likely, a marked crosswalk was completely overlooked in designing the road.
I proposed a solution for this exact intersection almost exactly three years ago. A roundabout, of course. I think I put it well in my article, How to Eliminate Dismissal Time Traffic Congestion. "This intersection can be potentially dangerous during dismissal times as it is a blind intersection from Hurricane Drive."
This roundabout design is ideal for literally dozens of reasons. First and foremost is how your brain works. Roundabouts feel more uncomfortable than a traditional intersection by design. You feel uncomfortable, so therefore, you will end up driving more cautiously. Note the marked crosswalks also include an LED pedestrian crossing sign, to make drivers more aware that a pedestrian could cross there. The yield signs are also lit up using LED lights and solar panels.
Next, note that there is a raised median blocking entry to the parking lot from this direction, which had caused much confusion when I was at the school. This would also make a two-way stop sign at that small intersection with the parking lot, so cars could take turns with buses rather than getting cut off by all of them at once as I remember happening.
If there's any time to research doing such a project, it's now NeCaHi. I call on the school board and the City of New Castle to cooperate in an effort such as this – some of you can expect an email from me within the coming weeks. But this intersection is just scratching the surface. Go read my article from 2019 and see my other proposals.
I'll be writing again soon.